Early on in Vietnam the Navy Seals started off using some rather plain equipment and most notably WWII style camouflage. While not actual WWII uniforms the pattern is essentially the same. The color and size of the pattern appear the same. These were commercial made pieces typically by KAMO brand, but others existed as well. As far as I can tell they feature a single small open chest pocket and and, presumably, two waist level pockets with plastic buttons. This is notable as the uniforms seen on advisors typically differed in pattern and construction.
Now, let's get geared up
It appears that the UDT/Seal Teams were using typically two M1956 ammo pouches with two canteens and presumably a Jungle First Aid Kit. While the M1956 suspenders were in use I went with the M1945 to stand out more from the run of the mill Vietnam set ups and to accentuate the early war appearance. Also the slick side M16s (Colt 604) of the Navy contract. (Yes I know the lower is incorrect)
I have been unable to find a duck hunter/frogskin boonie/bucket hat. and The few berets I have come across have cost way more than I would want to pay for a one off impression so we get the hat. Close enough.
ST-1 Photos from 1966
Here is a bit of a recreation of the below photo. We have an M3A1 Grease Gun and very basic web gear. Just the three magazine pouch, a canteen and an USN MkII knife. As well as a pair of jump boots. The only thing I'm missing is the flare taped to the knife sheath and beret.
The back is pretty spartan and only Included for completeness. I should have just taken artistic license and put a Jungle first air kit and second canteen on the back as that is most likely what was back there.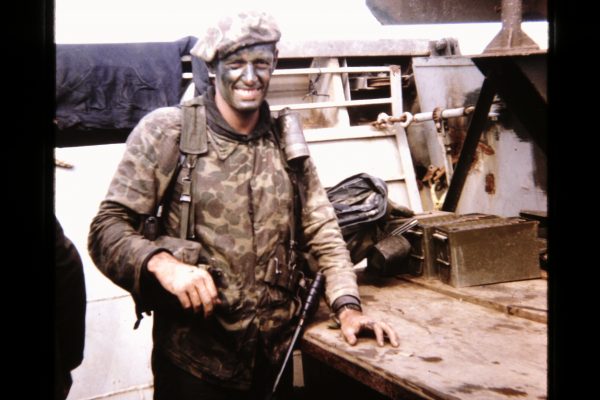 For some more photos and story check out this article I came across https://columns.wlu.edu/i-have-been-a-very-lucky-man/